"Only you can prevent forest fires!"
You can also prevent tan-lines, which I have obviously failed to do in this photo set. They're quite funny....and I make some fun faces too.
Okay, so you start with a face. Obviously....
This is me being all ugly with no makeup on. Well, residual eyeliner and mascara since I just prior to this washed my face. I also plucked my eyebrows....For more fancy looks it is best to have really neat eyebrows otherwise it is hard to make things look as best as they can be.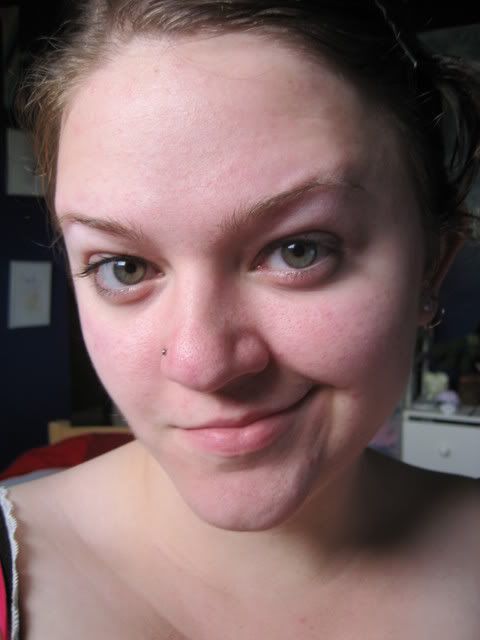 Now then, this is what I shall be using:
Top Two: Maybelline Dream Matte Powder in 0-1 or whatever and Quo Total Perfection Foundation in Ivory?
Bottom Two: Jane BePure Mineral Wear in Colourless and Red Earth Blush in RD030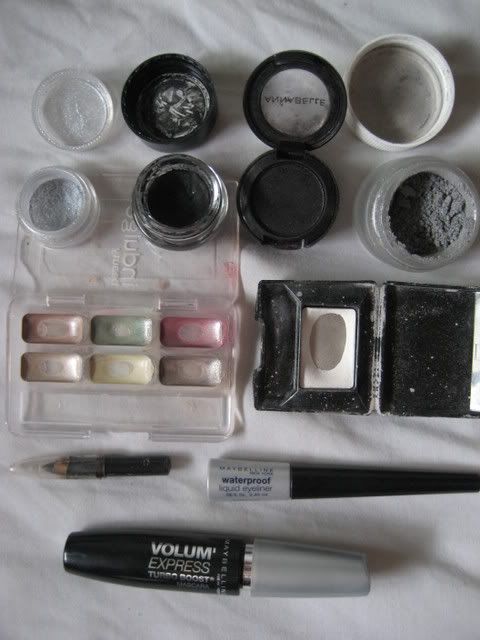 Eye Stuff
Top Row: Fyrinnae Pro Colours in Chrome, Avon Gel E/l in Black, Annabelle e/s in Carbon and Random greyish silver crap eyeshadow
Middle Row: Indulge cream e/s I used the top left colour for this look, and Avon Colortrend e/s in white diamonds
Bottoms shit: Bonne Belle e/l in Black Ink, Maybelline wtrprf liquid e/l in black and Maybelline Volum Express Turbo Boost wtrprf in very black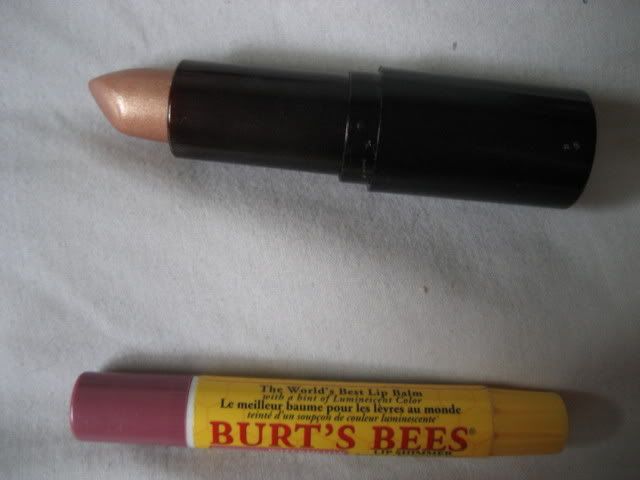 Lip shit: Top is Rimmel lasting wear in Frosted and then Bottom is Burts Bees in Raspberry...I think
TOOLS!!
Topmost is eyelash curler, hopefully you all know what it is and what it does.
Middle row (all vertical brushes, L-R) Blush brush, Kabuki for powder, Foundation brush, blending brush, eyeliner brush, eyeshadow hilight brush.
Bottom3 T-B: Cheapo lip brush I use for creasework, Cheapo e/s brush I used for the greys/silvers and then cheapo e/s brush I used for the black.
On to the Tutorial...
Step one: Cover your face in foundation to even out skintone. Unless you absolutely have completely flawless skin, usually any makeup look looks 10x better when you have foundation on. I am using my liquid stuff, partly cuz I ain't going anywhere in this so I don't need it to not get shiny. This makeup gets shiney pretty fast. Use whatever you like. I apply it with a brush and then smooth it out with my hands cuz my brush leaves streaks.
Streaky goodness.
So you smooth that out and make it pretty.
Step Two: For this look, and for any other look where you are applying dark colours that are likely to mess up your face, apply some cheapo powder to the undereye area loosely. This is to catch fallout. Some people prefer to put the foundation on afterwards to avoid fallout, but I don't like having to do that so I do this instead.
Step Three: I like to do the lining of my eyes before anything is on it so that I can lift the lid and get to the waterline without smudging the makeup. So line your eyes and then prime them with whatever you prefer. I do not have my Urban Decay Primer Potion yet, so I use my cream eyeshadow, which works alright as long as its not too hot out.
Step Four: Take the black eyeshadow and apply it to the outer part of the middle of your lid, don't put it in the outer corner yet, and don't worry about blending.
Step Five: Take the greyish silver eyeshadow and apply it just medially to the black (so the inner portion of the middle of your eyelid). Once again, don't blend it into the inner corner and don't worry about blending it at all really. Make sure you look like a goof when doing this.
Step Six: Take the cheapo lip brush which works really well as a crease/specialty brush and use it to get the black into the correct shape in the outer corner of the eye. Use a little at a time and blend outwards a little at a time.
Step Seven: Take more greyish silver and blend it across the lid almost into the inner corner, blend it into the black and try to even out the upper edge a bit by blending with a windsheild wiper motion. This is also where I added the second type of silver on top of everything once I had blended. It was a more sparkly silver so I don't want to waste it by blending it into the black. It is more of an accent colour.
Step Eight: Take the hilight brush and apply the white/light shade to the inner corner of your eyes and blend it also on top of the black parts up into your brows along the browbone.
Step Nine: Blend Blend Blend! Take a soft fluffy brush and blend the hilight colour into the black and grey colours to kinda blur the lines between them.
Step Ten: Get rid of that fallout powder. And apply your regular face powder to set the foundation. This usually works better but I don't care that some of my fallout powder stays behind....heh.
Okay, Now here is where I have two different endings, but don't worry, both are happy ;)
For a less dramatic looking smokey eye what you will do is
Step 11a) Line the top lid gently with either a gel or cream eyeliner or a kohl pencil type eyeliner, apply blush and mascara (didn't actually do the mascara yet in this step) and do your lips with a natural lipbalm or gloss.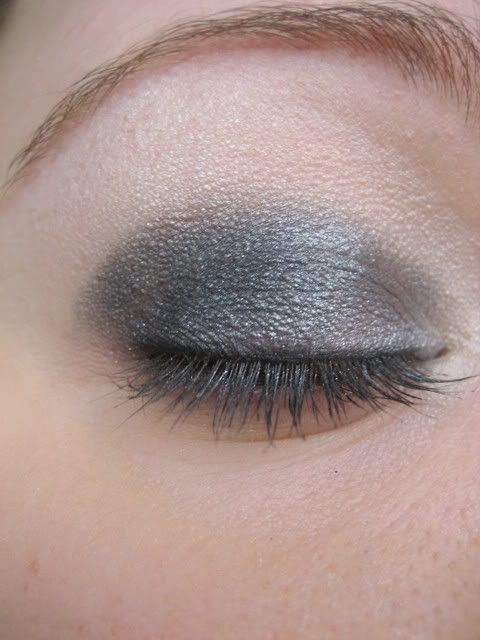 Notice the liner on the last picture. Kinda hard to tell its lined. But its nice and it finishes the eye.
For the more dramatic, smokey eye...
Step 11b) Take liquid liner and do a cat-eye wingtip whatever line on the top lid, apply your blush and mascara (make sure to curl your lashes majorly beforehand) and apply a nude lipstick, or if you can handle it, a medium-dark berry colour (usually its too much on the face though).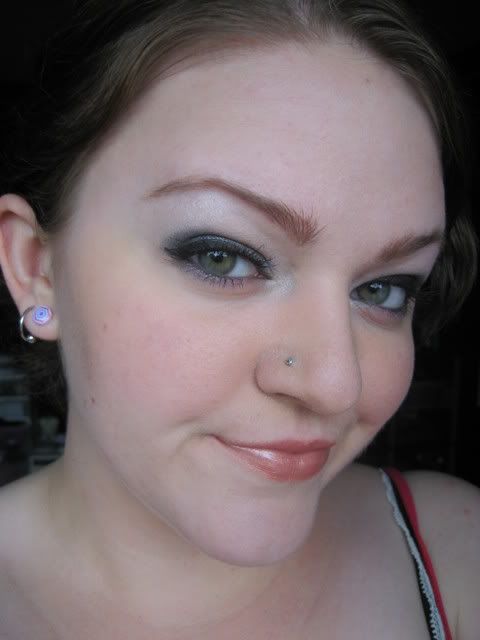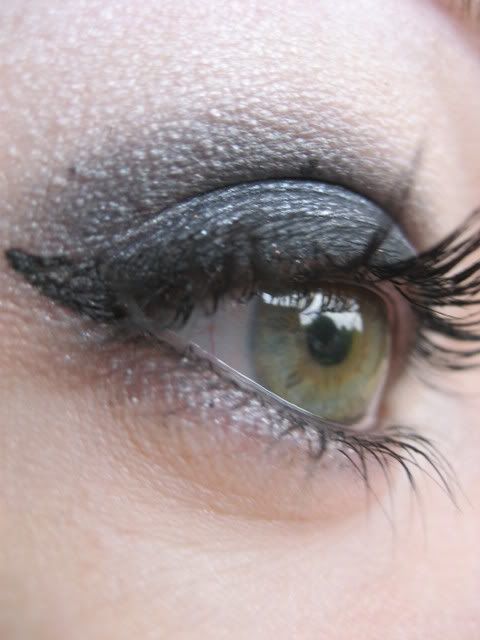 Take note of the liner in the last one. Much more dramatic. And also notice the place where I got some mascara on my lid...lol. And love my funny faces dammit. LOVE THEM!!!
Okay, and....you're done! Now put on the sexy cocktail dress and the eff me pumps and go have a grand old time!